Tuesday, Dec. 7, 2021 5:00 – 6:30 pm (Pacific Time)  Dec 8, 2021 10:00-11:30 am (Japan Time)
Register here:
https://www.eventbrite.com/e/climate-change-crisis-and-opportunity-tickets-204062716077
About this event
The COP26 was a global reckoning on the climate crisis.
"World is on track for 2.4 degrees of warming despite COP26 pledges, analysis finds" CNN
"The world is on track for disastrous levels of global heating far in excess of the limits in the Paris climate agreement, despite a flurry of carbon-cutting pledges from governments at the UN Cop26 summit." The Guardian
Countries and companies have committed to massive investments in new technologies, infrastructure and greenhouse gases pollution reduction:
Methane commitment to cut 30% by 2030 = 105 countries
Forestry protection = $8.7 trillion global assets
Clean technology investment (power, road transport, hydrogen, steel, agriculture)
What do they mean for you? How can your company profit by delivering climate change solutions? How can your company manage the unavoidable risks of climate disruption? What are the risks of delaying significant action?
In this webinar, we will discuss:
Trends of investment growth in climate change solutions
Examples of innovative technologies to tackle the climate crisis
Q&A on how you and your company profit from solutions and avoid risk
Presentation will be followed by breakout rooms for networking, conversation and holiday cheer.
Register here:
https://www.eventbrite.com/e/climate-change-crisis-and-opportunity-tickets-204062716077
Agenda:
5:00pm: Check-in, Introduction, announcements
5:10pm: Presentation
5:45pm: Q&A
6:00pm: Breakout room – Holiday Party
6:30pm: Conclude
We look forward to seeing you!
Speaker: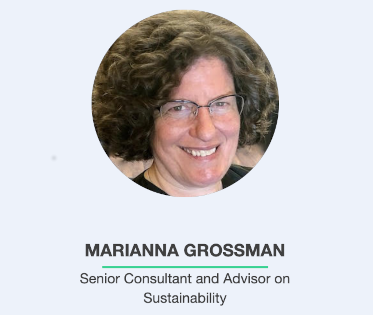 Marianna Grossman is Senior Consultant & Advisor on Sustainability for USAsia Venture Partners. She is also the Managing Partner of Minerva Ventures LLC, which she founded in 2016. Previously, Ms. Grossman led Sustainable Silicon Valley for seven years, after working in the automotive, computer, and semiconductor industries. Affiliations include: serving on California's Climate Adaptation Action Plan Technical Advisory Group; Sustainable and Resilient Resources Roundtable; international Balaton Group; Vice President, Transportation Choices for Sustainable Communities; Environmental Entrepreneurs; and, climate action councils for Palo Alto and Mountain View. Recent publication: Sustainable Electricity II: A Conversation on Tradeoffs, Chapter on Silicon Valley Corporate Case Studies on Clean Energy Innovation. Ms. Grossman does research for and advises investors, startups, established companies, national governments and communities to advance climate change solutions. MBA, Yale University School of Management. BA cum laude Policy Studies, Dartmouth College.
Moderator: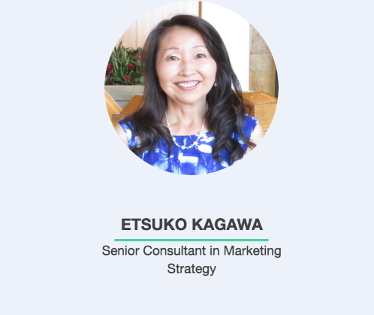 Etsuko Kagawa is a strategic and hands-on marketing leader and passionate about creating marketing plans based on analysis. She has worked at technology leaders that include Symantec, VMware, Informatica and brings more than 25 years of experience developing integrated campaigns, executing multi-channel digital marketing efforts, as well as product marketing and alliance/channel marketing. She has seen marketing transformation from brand awareness centric approach to data-driven targeted marketing that demonstrate the contribution of marketing investment to business.
USAsia Venture Partners is a premier Silicon Valley strategic consulting company. We help our clients discover and exploit new opportunities for innovation and market disruption across a wide range of industries, from high tech to clean tech. Our consultants are renowned experts in their fields. We conduct market research and due diligence; formulate alliance, marketing and business development strategies; and partner with our clients to plan and execute for their success. For more details www.USAsiaVenturePartners.com